First non-invasive medical device for core body temperature monitoring
RELIABLE PREDICTION
BY DEDICATED ALGORITHMS
CONTINUOUS TEMPERATURE MONITORING
MOBILITY AND CONTINUITY OF TREATMENT
High expectations for temperature monitoring

Supplement
the clinical picture
and hone the diagnosis.

Put
the patient under prolonged monitoring.

Address
existing solutions' unreliability.

Procure
accuracy close
to the invasive solutions.
A solution that fits neatly into the hospital environment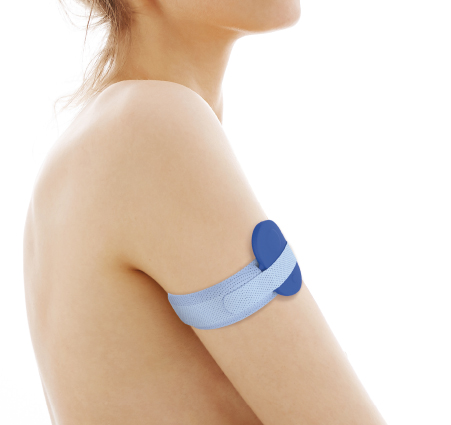 THERMODIAG ARMBAND
Multiple temperature sensors
Enrichment of temperature data with actimetry, heart rate, SpO2 and respiratory rate
Wireless data transmission

Quick to fit

Compatible with treatment protocols

48h Autonomy

Unnoticeable during patient's activities

Possibility of alternating between the right and the left arm
A device at the core of new medical practices.
MEDICAL
BENEFITS
Diagnostic aid
Temperature monitoring
Data contextualisation
Traceability and shared medical records
Prediction module adapted to various pathologies
Chronotherapy
PRODUCTIVITY
GAIN
Faster appropriate therapy determination
Reassigning human resources to treatment and care
Hospitalisation time reduction
HOSPITAL AND HOSPITAL AT HOME MONITORING
Post-chemotherapy monitoring
Intensive and critical care unit
Monitoring the effectiveness of antibiotherapies
Post-operative monitoring (outpatient surgery)
Sepsis
APPLICATION FIELDS
Oncology
ICU-CCU
Operative room pathway
Home care
Telemedecine
Thermodiag use scenarios.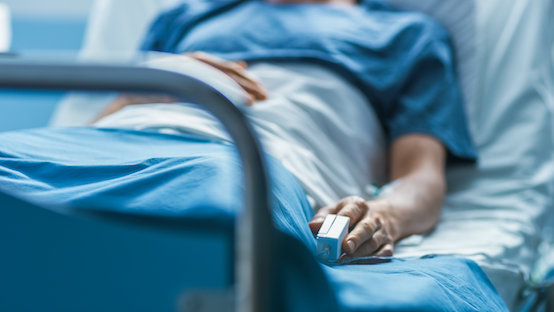 IN HOSPITAL

The patient's data converges
to the monitoring station via Bluetooth
These data can be transferred to the information system of the institute and the patient file.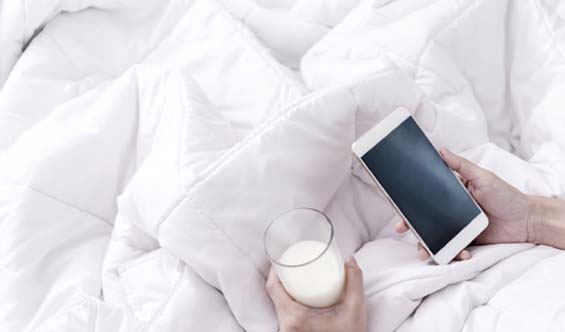 HOME CARE (TELEMEDECINE)

After the hospital stay,
the patient can keep the Thermodiag armband
to ensure continuity of care.
The data and alerts can be shared remotely.

A thermometry technology that creates an irreversible break with existing solutions*
*Probes and peripheral sensors, invasive probes...
MEDICAL CONTEXT :
Comparaison of temperature measurement methods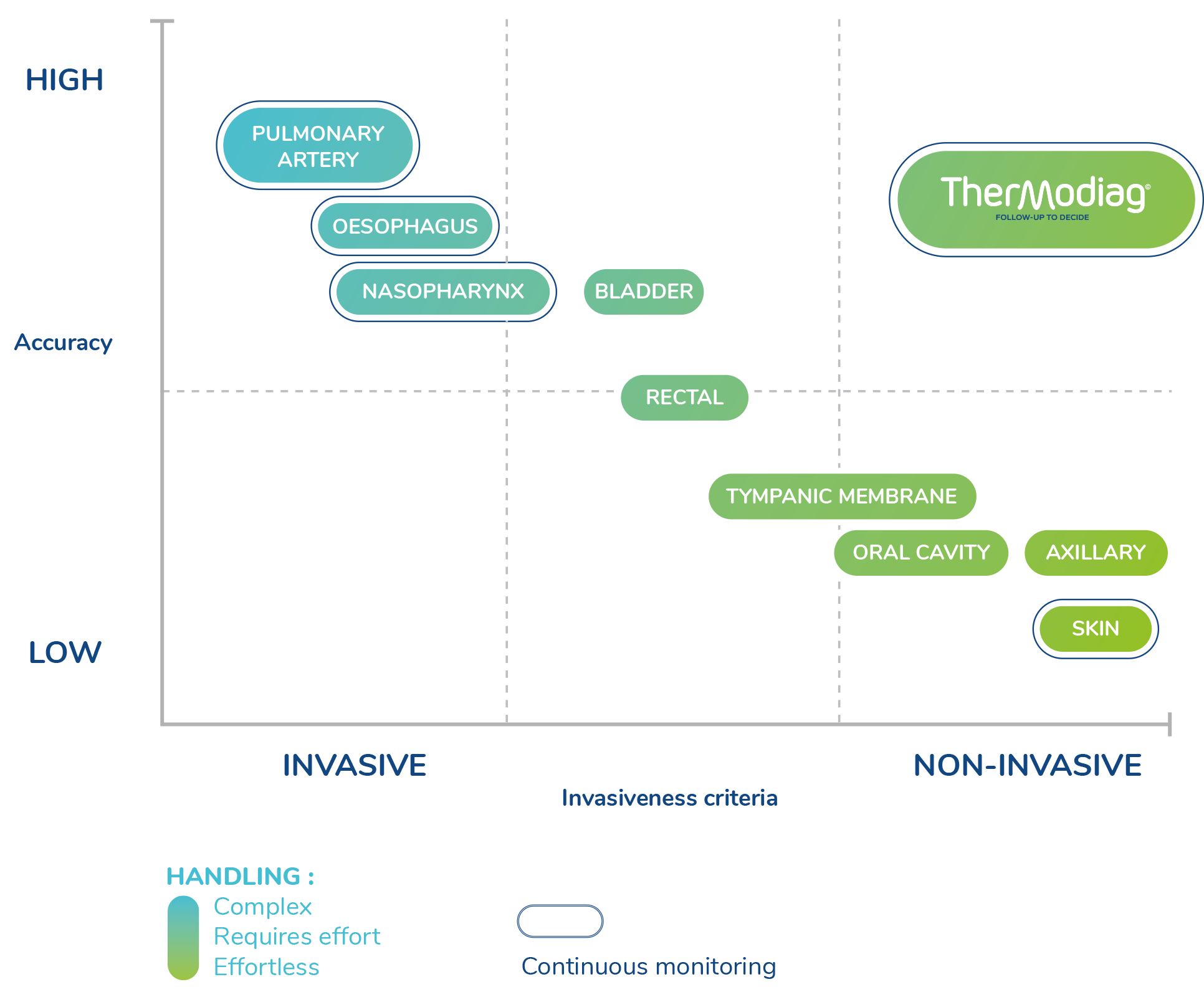 Accuracy and sensitivity are essential criteria for establishing a diagnostic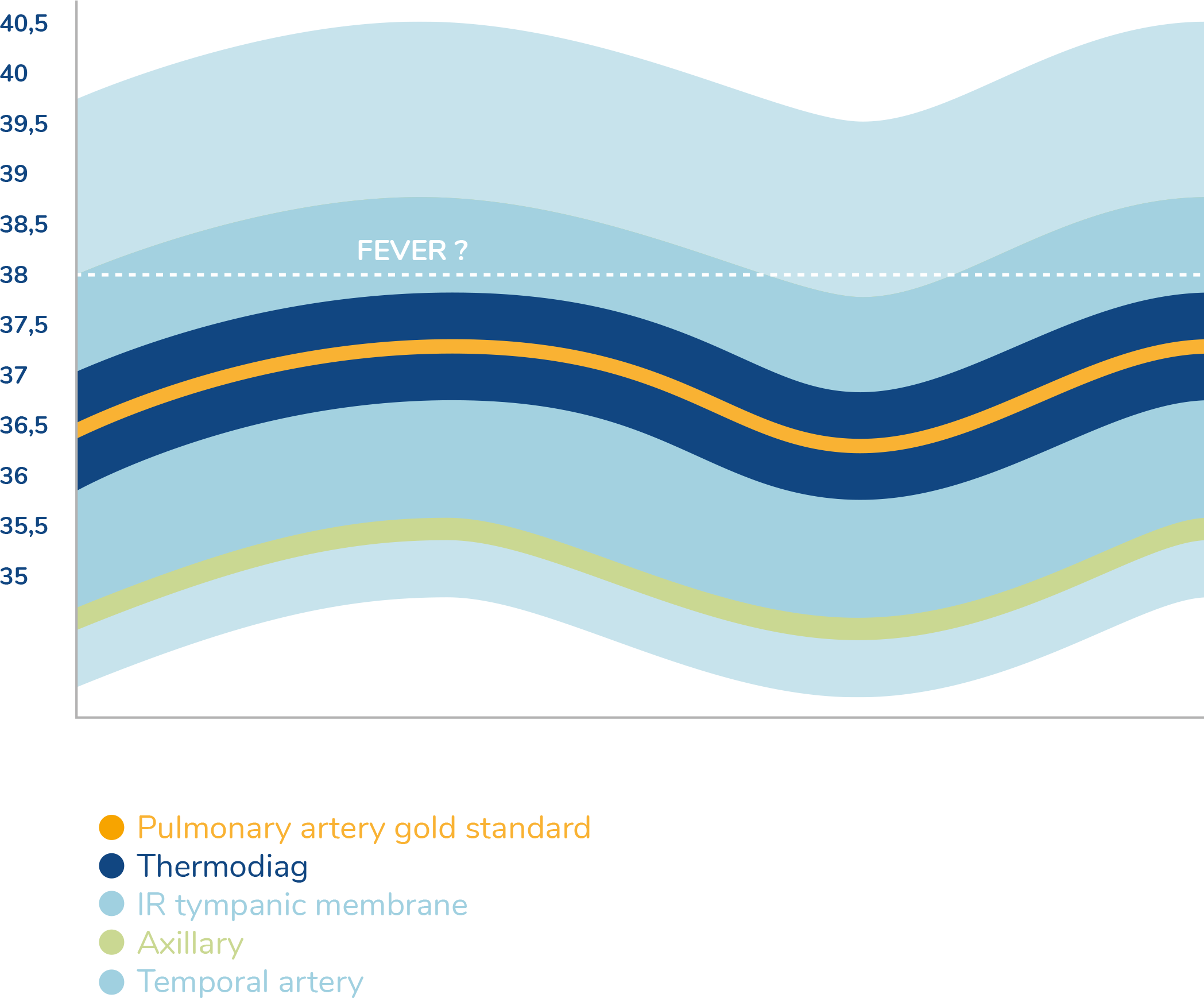 Connected class IIb medical device designed for hospital and home care use
A 4-YEARS R&D PROJECT
20 Thermodiag devices are used daily since November 2020 on volunteers
Over 15 000 hours of data acquisition
Operational Algorithm for adults
3 phases of clinical trials conducted on 306 subjects (Clinical trials : NCT04311268)
HIGH VALUE CREATION IN THE SHORT TERM
Sale or rental
Sale of disposable band tape
Added value throught pathology-specific algorithms
Algorithms
Reliable and accurate predictions enabling the core body temperature to be inferred.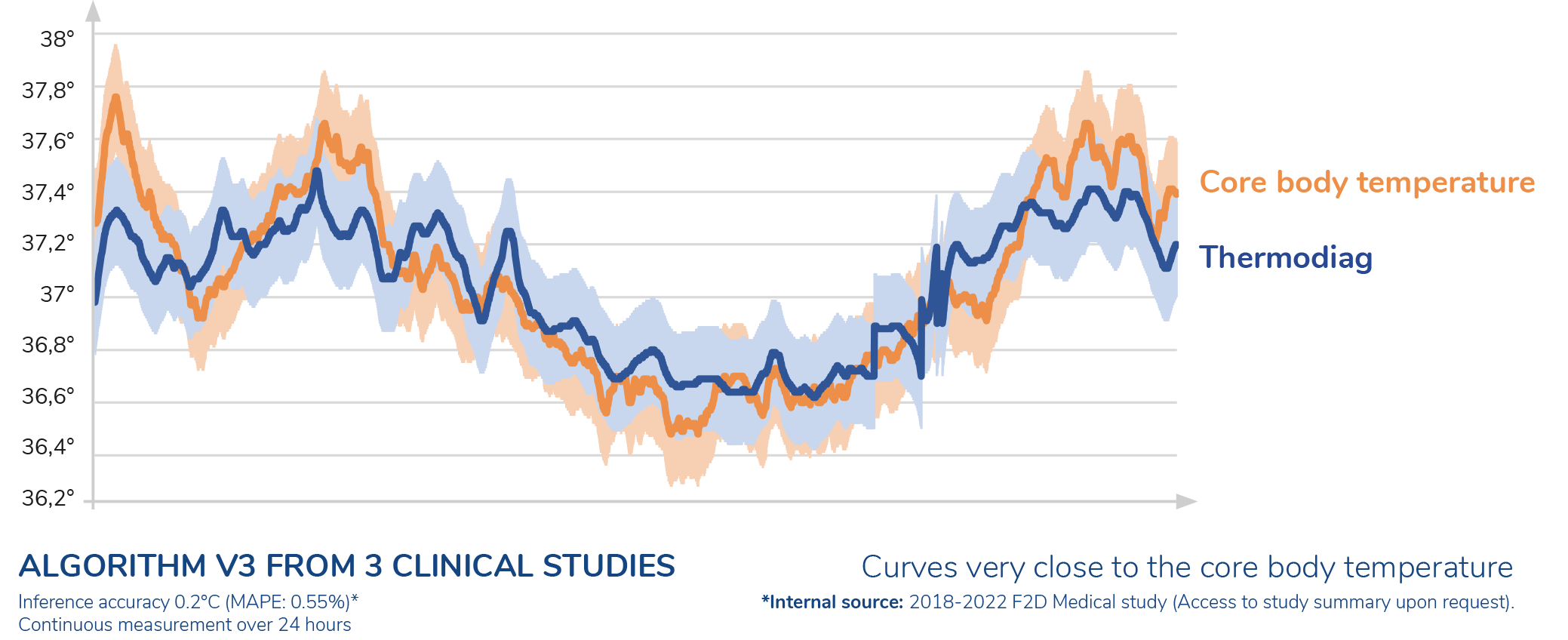 Testimonials
« With Thermodiag, we can finally monitor feverish peaks! »
« Compared with taking the temperature every 3 hours as we currently do, I see this device bringing a genuine improvement in patient comfort. »
« I see in Thermodiag a reliable device to determine the quality of rhythmicity and to characterize chronotypes (very useful in chronotherapeutics and chronopharmacology) »
Technology in detail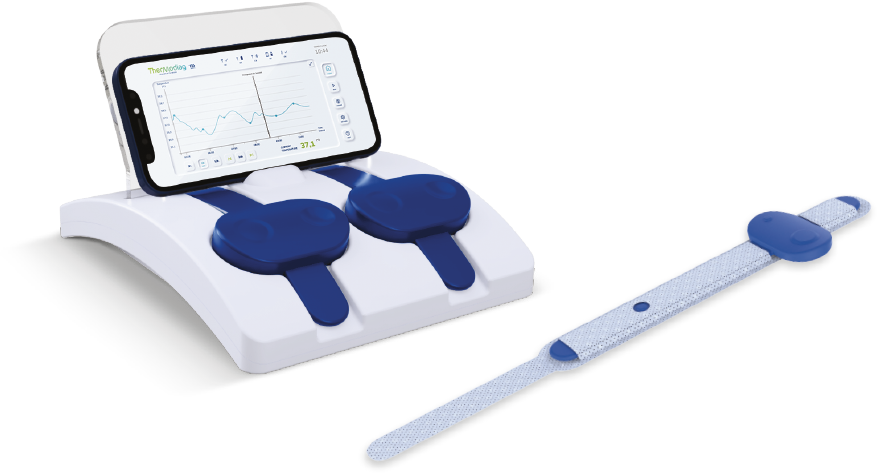 Thermodiag ARMBAND
Multi temperature sensors
Enrichment of temperature data with actimetry, heart rate, SpO2 and respiratory rate
BLE wireless communications
Patent registration FR3097115B1 and WO2020249665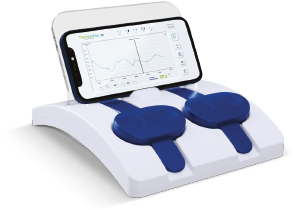 MONITORING TERMINAL
AND DEDICATED CHARGING STATION
Wireless communication
Deposited algorithm : WIPO WDTS-PC-00001938, ZIPLO 0-00000054

Disposable non-woven band tape to be renewed every 24H
Nonwoven band tape
Medical grade silicone adhesive
Adjustable to 95% of the adult population
Patent pending
FUNCTIONAL CHARACTERISTICS
Continuous monitoring (up to 48h)
Contextualised measurement
Dedicated algorithm
THE DEVICE WORN BY THE PATIENT
Wireless communications (BLE) to the computing and monitoring unit
IP67 rating
Compatible with most hospital disinfection protocols
Non-compressive disposable band tape
Autonomy, possibility of operation without the terminal
COMPUTING AND MONITORING UNIT
Real-time display of temperature curves
Programmable alarms (high and low)
Patient's profile history
Data communicated to and aggregated in the patient's records
Possibility to export data for subsequent analysis
SETTINGS
TEMPERATURE SENSORS :
Sensors accuracy 0,1°C
Temperature frequency acquisition 1 Hz
PPG :
Heart rate frequency 1 bpm
SpO2
Respiratory rate
ACTIMETRICS :
Detection of the subject's fine movement
Contextualization of physiological measurements